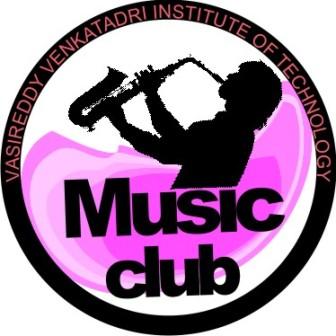 Tributes Paid to Legendary Musician Sri Mangalampalli Bala Murali Krishna
musical tributes were paid towards the legendary music guru Late Sri Mangalampalli Balamurali Krishna, under the Music Club of their institute today. It is not only a musical tribute to the great personality, but a vow to enstart continuos practice of the karnatic music by our music club, to keep the reign of sri Managalampalli alive in society as a petite launch.
Mr.Neti Visweswararao, Secretary of Sri Tyagaraya Cultural Association, is the chief guest for this occasion and revealed the musical life of Dr.Mangalampalli to the audience in an ecstatic manner. In this regard Sri Visweswararao, emphasized that Sri Mangalampalli was a legend in his lifetime and was an unparalleled genius of Carnatic music firmament. He also stated that Dr.Mangalampalli's more than 25000 compositions were admired by people at all walks-of-life.
Mr.Neti V Rao also revealed, that Sri Mangalampalli was the pride of Telugu land, who was born in Sankaraguptam of Krishna District. He also said that every single individual with some inkling of music through the radio to records to cassettes to CDs /DVDs spanning across generations, admired and followed Dr.Mangalampalli religiously. He emphasized that it is the true power of pure music. He revealed that Sri Mangalampalli got awarded by UNESCO with the esteemed Mahatma Gandhi Silver Medal and made Chevalier of the Ordre des Arts et des Lettres by the French Government in 2005 and the Indian Government's prestigious Padmavibhushan in 1975 under Indian Music and Drama Academy.
The entire program went in a heart-felt musical concert manner, by music club resource persons, student members of VVIT and the chief guest along in a rhythemic and rhetoric way towards Dr.Mangalampalli, revealing the musical life story of the legend and recited some of his famous creations on karnatic music that were outstanding.
Ms.J.Bhuvaneswari, the resource person of VVIT Music club, chanted a few famous compositions of Dr.Mangalampalli along with music club student members. These singers were acompanied by Mr.Prem Kumar, the resource person for Instrumental Music, on Flute and Mr.B.Suresh, resource person of dance club, on Mrudangam and Ms.Sruithi, I year B.Tech student on violin.
Principal of the host institute Dr.Y.Mallikharjuna Reddy, informed that VVIT always respects the legendary personalities in the society, who leave a mark in their fields of specializtion, and make the posterity to follow for the harmonious living in their profession, in which Dr.Mangalampalli Balamurali was among them.
Prof.T.Sridhar Babu, Head of Civil Engineering Department, Vice-Principal, VVIT, also present in the tribute and motivated the students about the importance of taditional music and the way how it can make the preplexed and ovestressed minds into a stable and strong state for making the life more contented. The chief guest Mr.Neti Visweswararao is felicitated by the management of VVIT as a token of respect towards the great efforts he made for the music. For this mellifluous musical tribute, Chairman Sri Sagar, Secretary Sri S.Badari Prasad, Jt.Secretary Sri M.Sri Krishna, Principal Dr.Y.M.Reddy , Music Club Coordinator prof.T.JayaLakshmi, other management members, all teaching & non-teaching faculty members along with students of VVIT and its School VIVA, were present as decent audience.
Kuchipudi Dance Performances under the aegies of Dance, Music and Theatre Clubs
an extra-ordinary Kuchipudi dance programme was organized in the institute today by SPIC-MACAY (Society for Promotion of Indian Classic Music And Culture Amongst Youth) New Delhi, under the aegis of Cultural, Dance and Music Club activities of the same institute. SPIC-MACAY as everyone knows, is a voluntary movement striving to bring an awareness of the rich cultural heritage of our country to youth and children. Artistes of repute perform in educational institutions. Classical Music, both Hindustani and Carnatic, Vocal and instrumental; Classical Dance forms of India, folk music and folk dances from all over India, traditional handicrafts and paintings and Yoga are introduced to the students.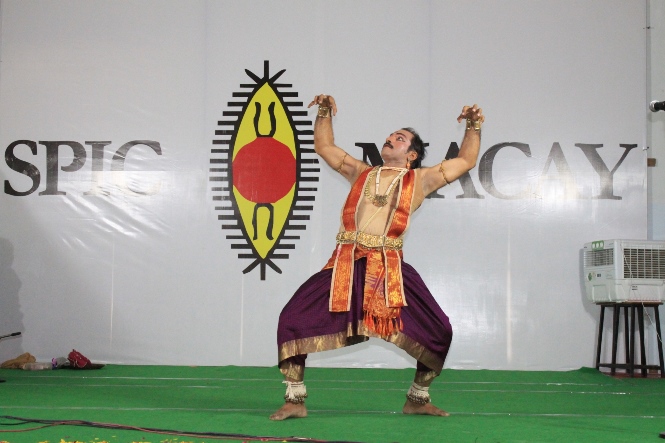 In this programme, Dr. Yeleswarapu Srinivasulu, grandson of Yakshagana Chakravarthi Mahankali Satyanarayana performed an astounding Kuchipudi dance programme with the support of his team, enacting the roles of Narasimha and Satyabhama. He also explained all the 8 forms of Indian classical dance.
He learnt the Artform from Legendary Gurus, Vempati Pedda Satyam, Vempati Chinna Satyam, Vedantam Satyanarayana Sarma, Mahankali Sriramulu Sarma and Pasumarti Rathayya Sarma. Dr. Srinivasulu is B.Sc degree holder. He took Diploma, M.A. Degree and Ph.D in Kuchipudi dance. He also has Diploma in Kuchipudi Yakshaganam. He had Junior and Senior Scholarship from HRD, and Sangeet Natak Academy.
Dr. Srinivasulu received the prestigious Bismillah Khan Yuva Puraskar awarded by the Central Sangeet Natak Academy in the year 2010. He has Nritya Kaumuidi and Nryitya Ratna titles. Dr. Srinivasulu had been teaching dance in Sri Potti Sreeramulu Telugu University Siddhendra Yogi Kuchipudi Kalakshetram at Kuchipudi since 15 years.
On this occasion the main Artiste Dr.Y.Srinivasulu, inspired the students that the nature gives all that is needed for the happy & peaceful living. Today technology and industry affect many aspects of our life in a harmful manner. He felt that, hardworking, Traffic, Noise Pollution, Economic problems and many stresses of busy city and our bustling life cause many diseases like Depression. Traditional dance helps one to get rid of all these problems.
He also explained that traditional dance is a symbol of each country & it shows history, habit, belief and customary of nations and it is the best way to introduce our country and culture to all over the world. He praised VVIT'S Cultural, Dance & Music Clubs for taking it as a responsibility to keep and convey it to next generation whilst helping their students to overcome any sort of undue pressures caused in their academic and professional lives.
Carnatic Vocal concert by C.S.Sajeev

Sri C.S.Sajeev is son of Smt.G.Gouri Antherjanam and Sri C.S.Sreekumaran Namboodiri. He had initial training for 8years from Smt.Lalitha, Smt.Geetha and Sri Irinjilakuda Vijaya Kumar. Later he had indepth studies under Sri Varkala C.S.Jayaram for 18years as a National scholarship holder. Sajeev is Agraded artiste of All India Radio, Chennai. He is awarded Bismillah Khan Yuva Puraskar of the central Sangeet Natak Academy in 2009, Chembai award of the Kerala Government in 2003, and Akashvani award of All India Radio in 1992. Sajeev has been performing in prestigious sabhas like the Madras Music Academy, and Sri Shanmukhananda Sabha of Mumbai.
Sajeev released audio C.D.s and Casettes which are in good demand. Great masters; Violinists like Sri V.V.Ravi, Sri T.K.V.Ramanujacharyulu, Nagai Muralidharan, and M.A.Sundaresan, and Mridangists like Dr.T.K.Murthy, Sri Vellore Ramabhadran, Sri V.Kamakara Rao, and Sri Guruvayur Dorai provided accompaniment for him.
Sajeev is B.Tech in Mechanical Engineering and M.B.A. With specialisation in Marketing. Sri Sajeev is supported on the Violin by Smt. V.Krishnaveni, lecturer, Government College of music and dance, Vijayawada and on the Mridangam by Sri B.V.S.Prasad, staff artiste of All India Radio, Vijayawada.
Sarangi Concert
SPIC-MACAY in association with Music Club of VVIT organized a music concert by Kamal Sabri, renowned Sarangi player from Delhi. SPIC MACAY (Society for the Promotion of Indian Classical Music And Culture Amongst Youth) is a voluntary movement founded with the motto to inspire youth through experiencing the rich and heterogeneous cultural tapestry of Indian and World Heritage, with a hope that the beauty, grace, values and wisdom embodied in these arts will influence their way of life and thinking and inspire one to become a better human being. For this, the most accomplished artistes of the country render programmes of Indian classical music and dance, folk, poetry, theatre, traditional paintings, crafts & yoga primarily in schools and colleges.
Kamal Sabri belongs to the seventh generation of illustrious Sarangi exponents of the Sania guarana of Moradabad. He is the son and desciple of Sarangi legend Ustad Sabri Khan. Kamal is top graded artiste of All India Radio. He also performed in BBC,Radio Switzerland, Radio Italy, and Radio Barbados. Kamal is a multifaceted musician being a soloist, accompanist and composer. He performed in prestigious sabhas such as Harballabh Sangeet sammelan of Jalandhar, Tansen Samaroh of Gwalior, Swami Haridas Music festival of Mumbai. He accompanied eminent classical vocalists. He composed music for documentaries, theatre and dance.
Kamal participated in several international music festivals. He had the privilege of being youngest musician to participate in 'Les 24heures durage' ( 24hrs. Millennium concert) in Paris. He was invited to perform in BBC, Radio Pakistan, Radio Switzerland, Radio Italy, and Radio Barbados. Kamal Sabri received many prestigious awards which include 'The Best Instrumentalist', 'The Young Maestro award', and 'Ustad Khitab'.
Sarangi a short necked string instrument widely used in Hindusthani classical music produced highly captivating music in the hands of Ustad Kamal Sabri. The 45 Minutes Sarangi music performance left everybody of the 500 strong audience spell bound. It seemed that the students were transported to a different world by the enthralling music. Before beginning his concert Ustad Kamal Sabri spoke to the students. He exhorted the students to show interest in following and learning the Indian Classical music. He said that only music has the power to bind people of all cultures together.
VVIT is the only college in the region which promotes 12 student run cultural clubs in the college. He said that the music club of VVIT organizes 2 hour sessions every week for the students to learn music. Principal Dr Y Mallikarjuna Reddy who inaugurated the music concert told the students that India music has the power to bring complete tranquility to a stressed mind. He added that music will help students to improve their concentration. Students of all branches, staff and members of the management team participated in this event.
Flute Concert
SPIC-MACAY in association with Music Club of VVIT organized a music concert by Manda Anatha Krishna, renowned Flutist. Sri Manda Anantha Krishna is son and disciple of late Sri Manda Balarama Sarma. He took further training from Dr. N. Ramani and Sri D. Sesha Chary. Sri Anatha Krishna has been performing in prestigious Sabhas all over India and abroad. He is an 'A' grade artiste of All India Radio and Door Darshan. He released C.Ds 'Anantha Venu Dhyana Lahari' and 'Nadhamrutham'. He is presently working as Lecturer in flute in Sri Venkateswara College of Music and Dance, Tirupati.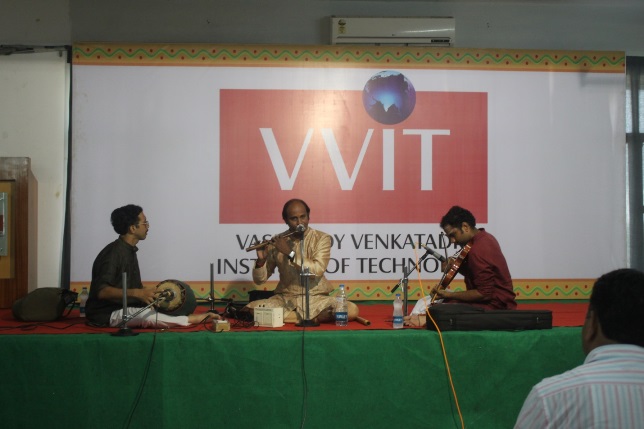 Sri Anantha Krishna is awarded the Bismillah Khan Yuva Puraskar of Kendra Sangeet Natak Academy in the year 2011. He also received the Pragna Puraskar from the Delhi Andhra cultural and welfare Society in 2012. Sri Anantha Krishna is a graduate in commerce of Osmania University and Master of Music of Madras University. Principal Dr Y Mallikarjuna Reddy who inaugurated the music concert told the students that India music has the power to bring complete tranquility to a stressed mind. He added that music will help students to improve their concentration. Students of all branches, staff and members of the management team participated in this event.
Inaugural Function
We can find a very rare person who do not enjoy music.Many people may have interest in music from childhood and because of some unavoidable reasons, may not be learning it. Some people may have hidden talent. For those music lovers, VVIT offers MUSIC CLUB, where passions enjoy themselves. Music Club offers both vocal and instrumental music. We have violin, guitar, flute, tabala, dolak, dappu, congo and Jazz drums training here as on now and are ready to add more on student interest. We have eminent trainers with vast knowledge and exposure for both vocal and instrumental music. The club helps for stress relief. Music encourages team spirit, which is very much required for becoming professionals of VVIT. Music also helps for developing analytical thinking by activating left part of brain cells. VVIT music club is inaugurated on 24th Feb 2010.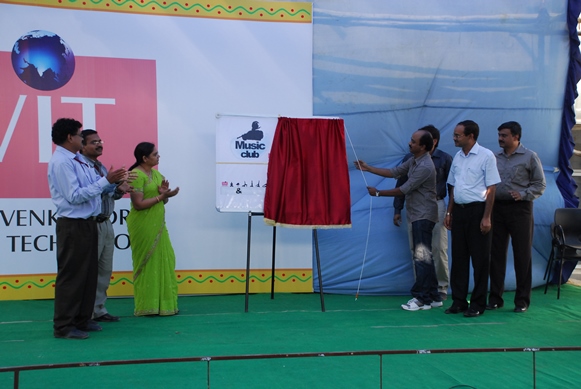 Club is co-ordinated by Ms. T.Jaya Lakshmi, Professor in department of IT, who herself is a singer and a very good talent hunter. Two resource persons train the students of music club
Mr.Prem Kumar – Mrudangam and Flute diploma holder and director of Sri Sai Sruthi Music Academy, GUNTUR.
Ms.B.Bhuvaneswari – MA music and 'B' Grade artiste of All India Radio