Departments of Electrical & Electronics Engineering of Vasireddy Venkatadri Institute of Technology inaugurated The Institution of Engineers (INDIA) (IEI) student chapter on 06.03.2017 in the auspicious presence of Dr. A.V.Naresh Babu, H.O.D, EEE department, MIC Engineering College, Kanchkacharla, A.P.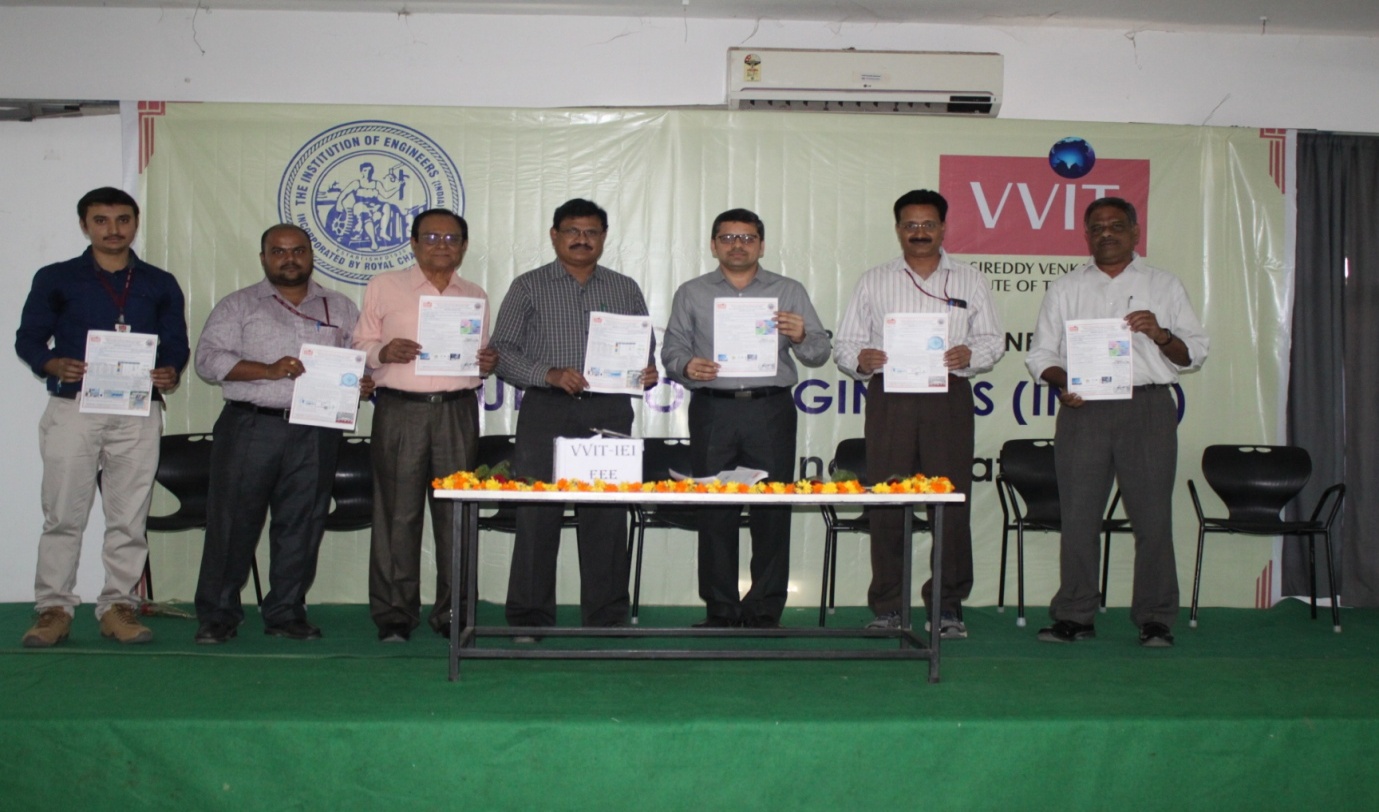 ACADEMIC YEAR: 2017-18
SL.NO

TITLE

Duration

Resource Person

With Desiganation

1

Smart Electric Grid With Renewable Energy Sources

16-09-2017

Dr.Chandra sekhar Yammani, Asst.Prof, NITWarangal, Telangana State.

2

Implementation of Maximum power point Tracking of boost converter supplied PV system using Intelligent Controller

12-09-2017

Dr.K.Srikumar,

Senior Asst. Prof,

JNTUK,

Kakinada,A.P

3

Two day National Workshop on

"Basics and Applications of PLCs"

30-06-2017 to

01-07-17

Mr.S.V.Pradeep Kumar

Mr.G.Ramesh,

Engineers from Design Tech Systems Ltd.
ACADEMIC YEAR: 2016-17
SL.NO

TITLE

Duration

Resource Person

With Desiganation

1

Guest lecture on Embedded Systems and its Applications

01-04-2017

Dr. T. Kishore Kumar,

Professor in ECE, NITW

2

Guest lecture on Practical Power Plant Operation and Control Strategies

16-03-2017

Ms. A. Anitha, AE,

VTPS, Vijayawada

3

Guest lecture on Advances in Power System Analysis

06-03-2017

Dr. A.V.NareshBabu

Professor in

EEE, MICCET

4

Workshop on High Voltage

Engineering applications

25-02-2017

Dr. G. SrinivasaRao,

Professor in EEE,

Vignan University

5

Seminar on Recent Trends in Power Systems

15-07-2016

To

16-07-2016

Dr. P.V.RamanaRao, ANU,

Dr. N.V.Srikanth,

NITW,

Dr. M. Sydulu,

NITW,

Mr. B.Raju, KTPS
ACADEMIC YEAR: 2015-16
SL.NO

TITLE

Duration

Resource Person

With Desiganation

1

Guest lecture on Embedded Systems and its Applications

01-04-2017

Dr. T. Kishore Kumar,

Professor in ECE, NITW

2

Guest lecture on Practical Power Plant Operation and Control Strategies

16-03-2017

Ms. A. Anitha, AE,

VTPS, Vijayawada

3

Guest lecture on Advances in Power System Analysis

06-03-2017

Dr. A.V.NareshBabu

Professor in

EEE, MICCET

4

Workshop on High Voltage

Engineering applications

25-02-2017

Dr. G. SrinivasaRao,

Professor in EEE,

Vignan University

5

Seminar on Recent Trends in Power Systems

15-07-2016

To

16-07-2016

Dr. P.V.RamanaRao, ANU,

Dr. N.V.Srikanth,

NITW,

Dr. M. Sydulu,

NITW,

Mr. B.Raju, KTPS
Academic Year: 2014-15
SL.NO

TITLE

Duration

Resource Person

With Desiganation

1

Solar power plant established in VVIT

14-09-2014

H.O.D, EEE

Department

2

Awareness Session on using the Globarena E-Mentoring System (GEMS)

13-09-2014

Globarena Executive

3

Workshop on improving soft skills

28-07-14

Mr. N. Raghu Babu

4

Workshop on Botnet and cyber crimes

17-07-2014

Dr. A.L.Narasimha Reddy, Texas A &M University

5

Guest lecture on various methodologies in Electromagnetics

06-05-2014

Dr. R.S.Raju,

Chief Scientist,

CEERI, Pilani