100 Students Placed in Allsec Technologies
Details

Category: Academics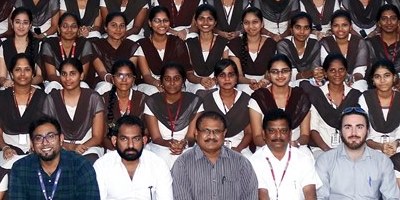 In the campus recruitment drive conducted today 10-01-2018, at Vasireddy Venkatadri Institute of Technology, Nambur, by the Chennai based Multi National Company Allsec Technologies, 100 meritorious students of VVIT were selected.


In this recruitment drive a rigorous schedule encompassed Written Test, Group Discussion and Personal interview. Mr. Vasantha Raghvan & Mr.Selva Kumar, HR Managers of Allsec Technologies steered this campus Interview. In this regard they stated that Allsec Technologies Ltd is a good place for beginners and lots of learning with balanced workload is what they are socially popular for. They said their company has expert communication trainers who support technically sound novices to complete tasks within time. The target of the college is to achieve 100% placements for all the deserving students and have been providing cent percent placements for the eligible candidates from the inception of the institute.

The selected students, Placement Officer Prof T.Srinivasarao and Training Officer Mr.Karayil Suresh were congratulated by Chairman Sri Vasireddy Vidyasagar, Secretary Sri S.Badari Prasad, Joint Secretary Sri M.Sree Krishna, Principal Dr.Y.Mallikarjuna Reddy, Dean of Academics Prof N.Kumara Swamy, heads of various departments and faculty members. The HR officials of Allsec Technologies were very much contented with the improved all round performance of the current batch students of VVIT over the previous batches as per their Company's recruitment data analytics. They also expressed their happiness over the laboratories and other infrastructural facilities, besides the laudable efforts on right tuning the candidates of the Institute as apt products for their Company and IT industry as a whole.

In this regard the placed students informed that the high level training provided by the college helped them in getting selected by the prestigious company. They also said that app development training program given by APSSDC in the college helped a lot in preparing on par with the industry expectations. They also expressed gratitude towards the management of VVIT and happiness over the efforts Training & Placement Department for motivating, preparing them to with stand and win the global competitions that are inevitable now-a-days for selection in top companies.
Examination Timetables
Details

Category: Academics
2017-18 II SEMESTER External Examination Timetables
Latest Results
Details

Category: Academics
Latest Results