Theatre Club in association with Animation & Graphics Club and Movie Appreciation Club presents the first ever One Minute Video Contest namely 'Laghuchitra'. Students can shoot a video that doesnot exceed 60 seconds in duration based on any topic of their choice. They must make sure that the topic chosen is free from any controversies, vulgarity or anything that is disturbing. Once the shooting and editing are done, contestants need to upload their video on any of the online video sharing platforms like YouTuve/Vimeo/Dailymotion and get a URL. Then they need to fill out this registration form on or before 7.10.18. Contestants will receive an email on succesful registration. Winners will be announced through our social media pages www.facebook.com/vvitgunturofficial and www.facebook.com/theatreclubvvit. The contestants must represent engineering colleges in Andhra Pradesh and Telangana states.
A Scene from Alluri Sitarama Raju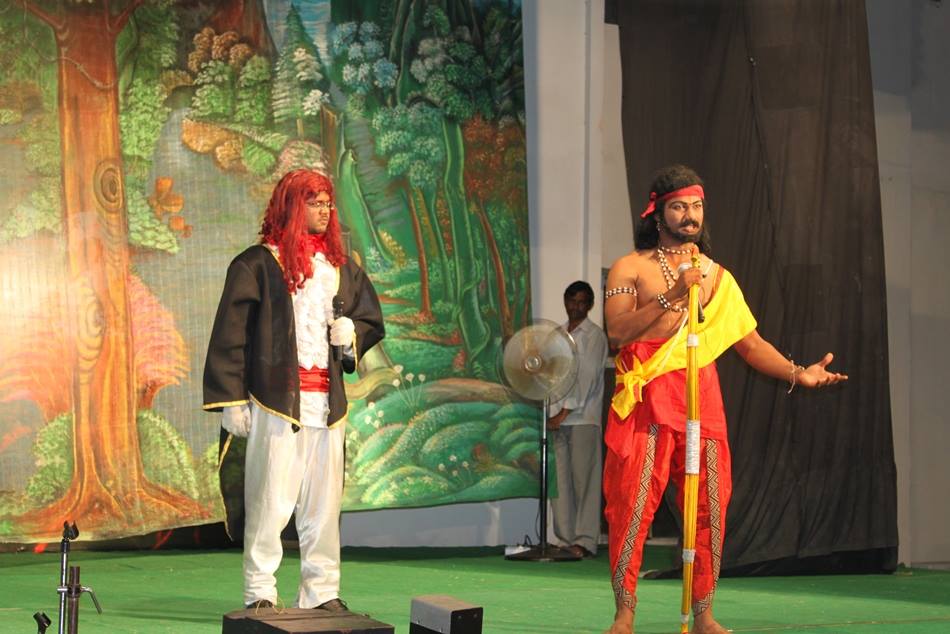 The CSE class of 2012 students performed a play on Legendary Freedom Figher Sri. Alluri Sitaramaraju. Mr. T. Ravi Kumar of CSE played the lead role of the renowed freedom fighter. Devendar impressed the audience in the role of British General Rutherford. The play was performed for 35 minutes and audience enjoyed the intense dialogues and patriotic message included in the play. Mr. Ravi Kumar is specially appreciated for his matured performance in the climax scene.
---
Late Comers - A comedy skit by Theatre Club
A fun filled skit "Late Comers" is performed by the II Year CSE students. The skit shows a batch of students who comes late to the first ever class taken by a newly joined lecturer. The students give hilarious reasons for their late coming and the reaction of the lecturer to those dipped the audience in laughter. Nuthi Naga Sai Teja played the lead role as the lecturer.
---
Save Nature - A mime performance by Theatre Club, VVIT
Written, composed and directed by the members of Theatre Club, VVIT this mime performance stands special for us. Mime is a tough act to perform and it is only the second time Theatre Club attempted this. This mime is written about how pollution is effecting our lives. Embedded with a beautiful love story, the environmental awareness is highlighted in this act. Eswar Teja of ECE and Sk. Famida of CSE played the lead rules. Venkat Kalyan, Akhil, Saswanth Ram, Yaswanth, Naga Sai Teja are among the other participants.
---
Vandematharam - A street play
A mesmerizing performance was delivered on the occasion of our Independence Day. A group of 40 students representing the Theatre Club performed a theatrical act which brings our freedom fight to the eyes. This street play is directed by the All India Radio resource person Mr. Subba Rao, who also narrated this street play. Music Club of VVIT composed the background music and vocal bits are sung by Mr. Subba Rao himself.
---
Alluri Sitarama Raju - Mono Action by Our Faculty Mr. VVN Achari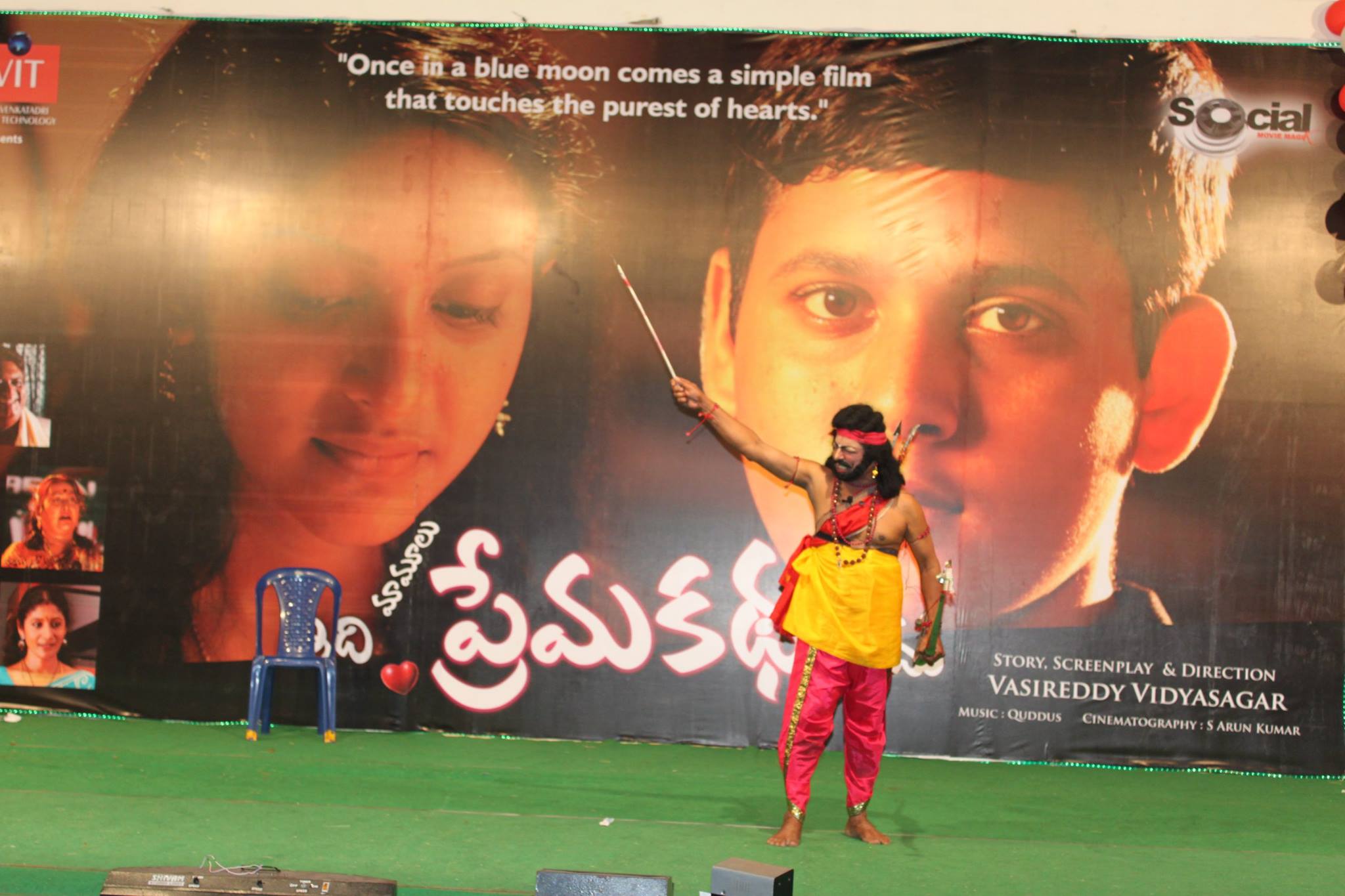 Mr. VVN Achari, a faculty member of Basic Sciences and Humanities department is an ardent artist when it comes to drama. He when was young enacted in many dramas in his college days. He is leading the Theatre Club activities for the first year students in the college. Himself a good actor, he turned Alluri Sitarama Raju to perform a mono action. At the age of 65, he got a standing ovation for the intense dialogues delivered during this act.
---
Kanyasulkam - A play by Faculty Members of VVIT
Kanyasulkam is a very famous drama in Telugu states. Written by Legendary Sri Gurajada Appa Rao, Kanyasulkam is a 3 hour long drama consisting of many complex dialogues and scenes. The faculty members of Theatre Club are up to this challenge, rewritten the entire script to shorted it to 45 minutes and enacted successfully. This drama is performed in the Annual Day Celebrations of the college which is thoroughly enjoyed by students and parents. From the, it has become a standard that every year in the annual day celebrations, a drama will be played by the faculty members of VVIT.
---
Famous Film Star Jaya Prakash Reddy addressing the Club Members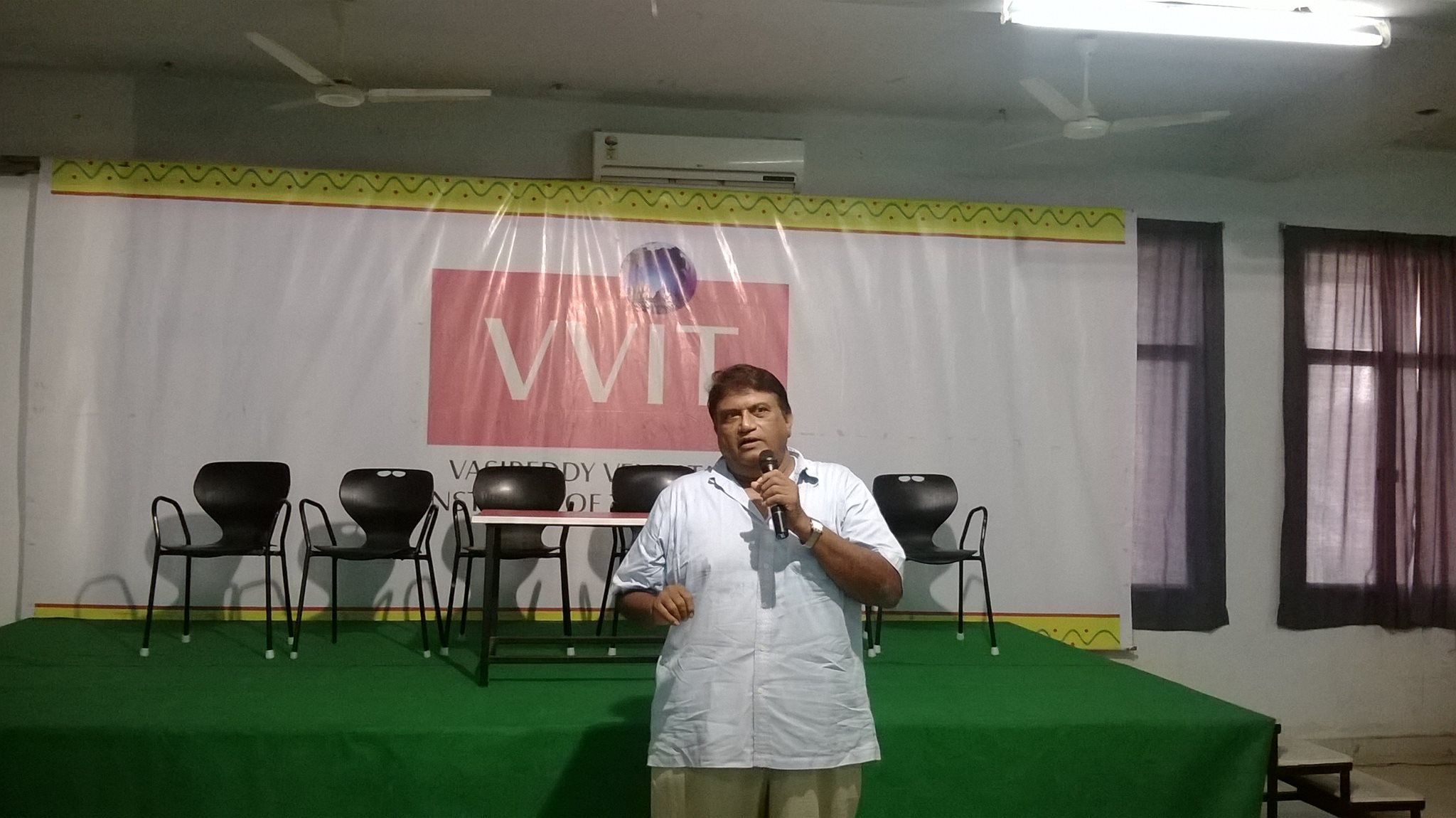 Mr. Jaya Prakash Reddy is a famous tollywood film star, whose love for drama is unmatched. Himself a renowned drama artist, Mr. Reddy took time in his busy schedule to visit VVIT and gave a motivation speech to the members of Theatre Club. In his speech he explained the importance of art in one's enrichment. "Kavyeshu Naatakam Ramyam" which means drama is the best among all art forms, quoted by him. He also urged VVIT to take part in his campaign for saving drama in Telugu states, which is named "JP's Nela Nela Natakam" (Dramas Every Month). to which VVIT agreed happily.