NSS Day Celebrations in the Campus 24-09-2017
NSS was formally launched on 24th Sep, 1969, the birth centenary year of the father of the nation. Therefore, 24th September is celebrated every year as NSS day. All NSS Unit of VVIT celebrated NSS Day by administering Swachh Bharth pledge at college by 1st year students and staff.
Dr M.V.Raghu Ram HOD S&H, Dr K. Satyanarayana HOD Mech and Sri P. Guruprasad Ex NSS officer has given speech and spread awareness about Swachh Bharath abhiyan, after that 18 NSS Volunteers are distributed 80 Dust bins to every class in VVIT to Aware students about cleanliness and conducted class to class awareness programme about litter free campus and class.
Physical Literacy Program on 28-09-2017
The NSS Unit of VVIT organized a "Physical Literacy programme" for 15 Self Help Group (SHG) members from various villages around the college on 28th September 2017 in the college. As part of this programme a health awareness programme was organized. Dr T Narayana Swamy, Medical Officer, Pedakakani, Ms G Bhulokamma, Community Health Officer (CHO), Pedakakani, Ms K Vijaya Suseela, MPHS, MS I Inyasamma, MPHS and A Yesamma, MPHA organized the health awareness programme.
Ms K Kiranmayi, Asst Professor from VVIT conducted an awareness programme on the need for literacy. Insight was also given about financial literacy. The Self Help Group members were explained about how to use ATM cards and Cell Phones. Dr N Arun Kumar, and Janardhan Reddy the Physical Directors of VVIT conducted games for the members and distributed prizes to all the winners.
The members of the Self Help Groups expressed their happiness over participating in the programme. They thanked the management of the college and the NSS Unit of the college for organizing such programmes. Mr K Lakshma Reddy, NSS Programme Officer of the College organized the programme. 20 volunteers are participated in the Physical Literacy Programme for SHG members. The following student volunteers are participated in Physical Literacy Programme for SHG members
| | | | | | |
| --- | --- | --- | --- | --- | --- |
| S.No | Roll Number | Branch | Student Name | Contact | Email |
| 1 | 14BQ1A0174 | IV-CIV | p.vaishnav | 8121356345 | This email address is being protected from spambots. You need JavaScript enabled to view it. |
| 2 | 17BQ1F0008 | I-MCA | M.N.S.P.Santosh | 9701360130 | This email address is being protected from spambots. You need JavaScript enabled to view it. |
| 3 | 17BQ1F0016 | I-MCA | P.V.N.Raghavendra | 8465009441 | This email address is being protected from spambots. You need JavaScript enabled to view it. |
| 4 | 14BQ1A04G9 | IV­-ECE | V.Navya | 7093303481 | This email address is being protected from spambots. You need JavaScript enabled to view it. |
| 5 | 14BQ1A05F1 | IV-CSE | N.Sowmya | 8341649846 | This email address is being protected from spambots. You need JavaScript enabled to view it. |
| 6 | 14BQ1A04H1 | IV­-ECE | V.Sai Nadh | 9581460111 | This email address is being protected from spambots. You need JavaScript enabled to view it. |
| 7 | 14BQ1A0183 | IV-CIV | S.Naveen | 9154010709 | This email address is being protected from spambots. You need JavaScript enabled to view it. |
| 8 | 14BQ1A0164 | IV- CIV | N.S.S.Syam | 9989731269 | This email address is being protected from spambots. You need JavaScript enabled to view it. |
| 9 | 14BQ1A0317 | IV-MECH | CH.Prem | 9959891821 | This email address is being protected from spambots. You need JavaScript enabled to view it. |
| 10 | 14BQ1A0171 | IV- CIV | P.Karthik | 9515395954 | This email address is being protected from spambots. You need JavaScript enabled to view it. |
| 11 | 14BQ1A0169 | IV- CIV | P.Durga Vani | 9652905302 | dThis email address is being protected from spambots. You need JavaScript enabled to view it. |
| 12 | 15BQ1A0312 | III-MECH | B.Vamsi | 8639368893 | This email address is being protected from spambots. You need JavaScript enabled to view it. |
| 13 | 16BQ1A0578 | II-CSE | J.V.Sai Sumanth | 9100183348 | This email address is being protected from spambots. You need JavaScript enabled to view it. |
| 14 | 16BQ1A0586 | II-CSE | K.Navya Sri | 8074264526 | This email address is being protected from spambots. You need JavaScript enabled to view it. |
| 15 | 16BQ1A05A6 | II-CSE | A.Kowshik | 9493841773 | This email address is being protected from spambots. You need JavaScript enabled to view it. |
| 16 | 16BQ1A0559 | II-CSE | G.L.Vasanthi | 8008506031 | This email address is being protected from spambots. You need JavaScript enabled to view it. |
| 17 | 16BQ1A0575 | II-CSE | J.Neeharika | 7660048478 | This email address is being protected from spambots. You need JavaScript enabled to view it. |
| 18 | 16BQ1A04B9 | II-ECE | Dheeraj | 9494425125 | This email address is being protected from spambots. You need JavaScript enabled to view it. |
| 19 | 16BQ1A0581 | II-CSE | J.Akhil | 8985720215 | This email address is being protected from spambots. You need JavaScript enabled to view it. |
| 20 | 14BQ1A1202 | IV IT | A.Sandeep Reddy | 8801788011 | This email address is being protected from spambots. You need JavaScript enabled to view it. |
Tree Plantation on 12-09-17
15 NSS Volunteers are planted trees in different locations all around college.
The following students are participated in Tree Plantation
| | | | | |
| --- | --- | --- | --- | --- |
| S.No | Roll Number | Branch | Student Name | Phone Numbers |
| 1 | 14BQ1A1202 | IT | A.Sandeep Reddy | 8801788011 |
| 2 | 16BQ1A0426 | ECE | CH.Hemanth | 9951392502 |
| 3 | 16BQ1A0439 | ECE | CH.Ravi teja | 9440613150 |
| 4 | 16BQ1A0459 | ECE | K.Veerendra | 7093316781 |
| 5 | 16BQ1A0460 | ECE | K.Madhu Mohana Vamsi | 9490605421 |
| 6 | 16BQ1A0430 | ECE | CH.Vasantha Lakshmi | 7036346983 |
| 7 | 16BQ1A0432 | ECE | CH.Ramya Krishna | |
| 8 | 16BQ1A0578 | CSE | J.V.Sai Sumanth | 9100183348 |
| 9 | 16BQ1A05A6 | CSE | A.Koushik | 9493841773 |
| 10 | 16BQ1A0579 | CSE | B.Jaya | 8639560243 |
| 11 | 16BQ1A0596 | CSE | k.Likitha | 7075655062 |
| 12 | 16BQ1A0575 | CSE | J.Neeherika | 7660048478 |
| 13 | 16BQ1A05B3 | CSE | G.Likitha | 9908859198 |
| 14 | 16BQ1A05C0 | CSE | M.Manu Koushik | 9063120191 |
| 15 | 16BQ1A0590 | CSE | K.Sai Priya | 7997883047 |
NSS Field Visit on 4-08-2017
The NSS Unit of VVIT conducted Field visit on 4-8-2017 (Friday) for IV B.Tech, B section students of EEE Department to visit the Upper Primary School located at the adopted village Nambur, to understand the ground realities of how the primary school children are learning and understanding the recent technological developments happening in our state as well as in our country and worldwide.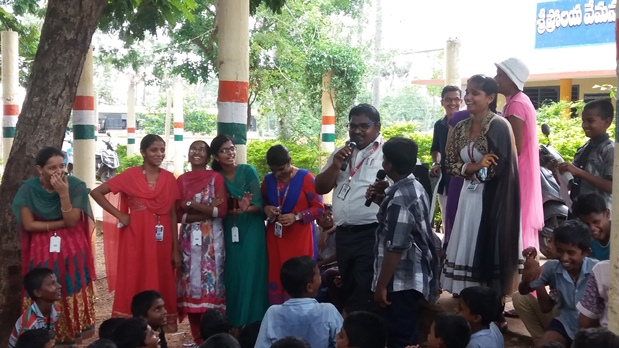 All IV B.Tech EEE Engineering B section Students enthusiastically participated in the above field visit and conducted several activities to understand the learning process of the young students and offered gifts to the active participants among them. It helped a lot for our NSS students to vividly recognize the methodology of teaching at the Government schools and to plan further to procure the necessary skills in improving the skill sets of the upper primary school children.
Yoga Day Celebrations by NSS Unit of VVIT
Today at our Institute a huge gathering of 1826 which includes Administrative, Teaching & Non-Teaching staff, 30 NCC Boy cadets of 2(A) ARMD SQN NCC, 70 Girl Cadets of 10(A) Girls Bn and 126 of NSS volunteers of our institute have participated in 3rd INTERNATIONAL YOGA Day celebrations.
Initially Our Principal Dr. Y. Mallikarjuna Reddy addressed the gathering and gave importance of the day. Dean (Academics) and Professor of Civil Engineering Dr. Nekkanti Kumara Swamy , addressed the gathering about benefits of yoga for physical and mental health. Yoga instructor Bysu Mallikarjuna Rao ,General Secretary, The Guntur Yoga Teachers association explained and demonstrated about individual posture of yoga prescribed by Ministry of Ayush. NSS Program Officers Puttu Guru Prasad, Dr. K. Sathyanarayana and NSS College Coordinators of different departments participated in Yoga Practice.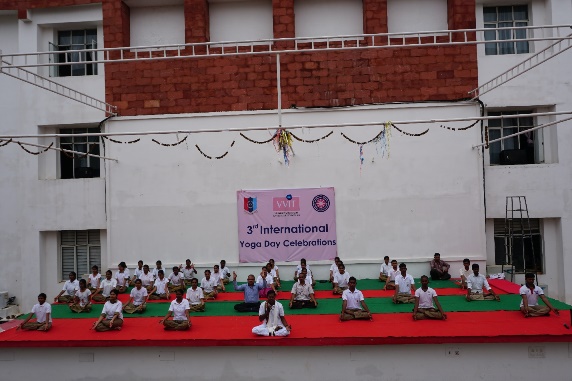 Hybrid Coconut Tree Plantation at Gollamudi Village on 2-08-17
NSS volunteers from CSE 4th year B.tech, participated in plantation program at VVIT adopted village namely Gollamudi, near our college on 8/2/2017, @ 2.30pm, under the guidance of NSS Coordinator Dr.K.Satyanarayana of Mechanical Department and NSS Program Officer Asst.Professor P. Guru Prasad of S&H Department. Our NSS Team approached village Panchayat President and discussed about the plantation program. She suggested the location for plantation of Hybrid Kerala Coconut tree plants around the Drinking water pond situated adjacent to the village, in order to protect the pond water resources from contamination due to open defecation on the tank bund, protect the water tank from the decaying leaves of other plants,prevention of water evaporation by providing green shelter and safe guard the aquatic eco system in and around the drinking water pond of the village.
NSS volunteers after interaction with the president of the village, decided to plant Hybrid Kerala Coconut plants around the pond at the interval distance of 3 meters each. Later NSS volunteers dug the pits in the size of 1.5fX1.5fX4f and filled the bottom of the pit with sand and organic compost made from the cow dung and agriculture waste. Some of the volunteers were watering the plants and the village president appreciated the efforts made by NSS volunteers to participate in all future development activities in the village, and also requested the NSS volunteers to create awareness about Digital Literacy and Swachhata.
NSS Coordinator Dr. K. Satyanarayana explained the importance of plantation and role of service in the career development of the students, and motivated the students to participate and propagate the DLP and Swachhata in the adopted village. NSS Program Officer Sri P. Guru Prasad expressed his gratitude to the Management of VVIT, Principal, and CSE HoD for their cooperation and support for organizing such type of events..
Awareness Rally on Cashless Transactions in Near by Villages
The NSS Unit of VVIT organized an awareness rally on cashless transactions in the near by villages of Nambur and Gollamudi. Several villagers are explained how to operate ATM, mobile apps and other technical things.