VVIT gets a distinct place in ARIIA, pan India
Vasireddy Venkatadri Institute of Technology, Nambur has got a significant place in the recently released Atal Ranking of Institutions on Innovation Achievements (ARIIA), pan-India rankings for the year 2020.
This ARIIA aimed to promote innovation among Indian educational institutions, by assessing colleges and varsities on criteria ranging from support for entrepreneurship development to innovative learning method, intellectual property generation, technology transfer and commercialization among other aspects.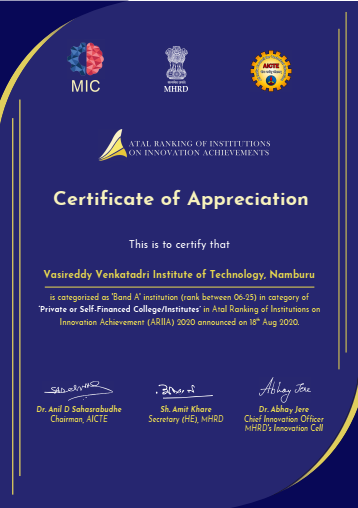 These ARIIA rankings were released on 18-08-2020, by Hon.ble Vice-President of India, Sri Venkaih Naidu and HRD minister Ramesh Pokhriyal, which are endorsed by AICTE, MHRD and Ministry of Education- Government of India. For this Award Ceremony VVIT got an e-invitation to join and receive the award.
A total of 674 institutions across India took part in the rankings and from Andhra Pradesh, only 17 institutions of all categories, got this prestigious honor.
In the Private or self-financed Colleges category, VVIT has been ranked under Band-A (Rank between 6th -25th) across the entire country, in which only three colleges from Andhra Pradesh were ranked including VVIT.
VVIT always endeavor over the all round performance and comprehensive growth of their students, fulfilling the growing needs of all stakeholders in every aspects.
Teaching fraternity congratulated the entire faculty for showing their dedication and devotion in teaching-learning, research-development, training-placement and innovation-entrepreneurship activities that are outcome based and constructive. He also emphasized that this ranking has proven that the infrastructural facilities and intellectual properties that VVIT has, were on par with the National Standards.
Principal Dr.Y.Mallikarjuna Reddy, of VVIT, expressed his happiness in this regard for getting this type of Nation-wide recognition, with in 13 years, since the inception of VVIT.
Dr.Reddy stated that, this ranking, now has improved their responsibility rather than being complacent. He also commended the efforts of Dr. KVL Somasekhar, Prof. of Mechanical Engineering and In-charge of Innovation & Entrepreneurship Development Cell (IEDC) and its members.
VIVA-VVIT Institutions Chairman Sri Vidya Sagar, Secretary Sri S Badari Prasad, Academic Secretary Sri M SreeKrishna, VVIT-Principal Dr.Y.Mallikarjuna Reddy, Dean Academics Prof. N.Kumara Swamy, Dean of studies Prof K.Giribabu all Heads of Departments, teaching and non-teaching faculty, students were delighted on the achievement.