Google CodeLabs
Details

Category: Facilities
Google Developers Code labs are top-of-the-line Computer labs optimized for group work and mobile development. They will be installed at 2 college campuses across India.


The purpose of these labs is to help maintain interest in product/application development beyond our initial trainings, as well as serving as an incentive for the host Universities to be involved in our training program. We want these labs, like the course, to be available to as many people as people, so we're primarily considering campus locations that are part of very large state-run Universities.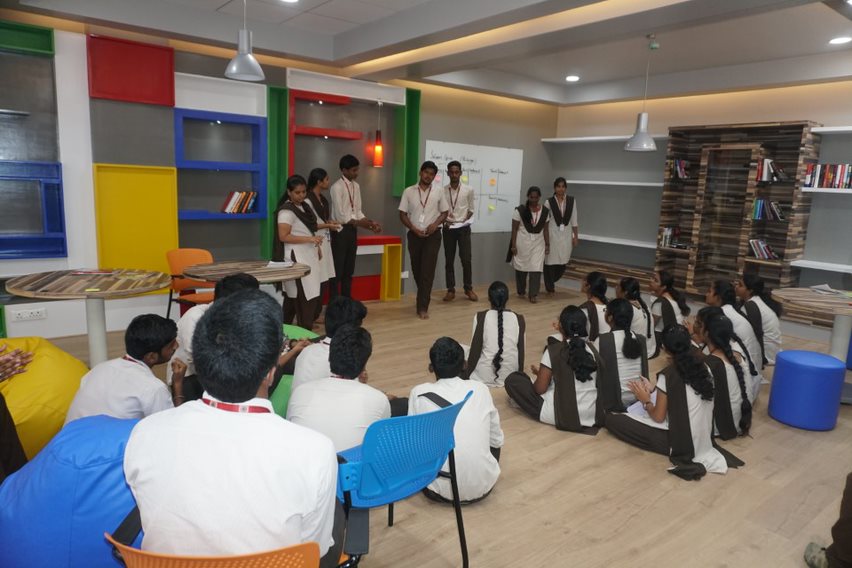 These labs will be funded entirely by Google, including maintenance and IT support through the end of the skilling initiative. At the end of our initiative, the CodeLabs space and equipment will remain the property of the host college/university.


Code Lab Be Used For
The primary use of these spaces will be to host our curriculum on
Machine Learning /AI

Mobile Development

Web Development

Cloud/Analytics

IoT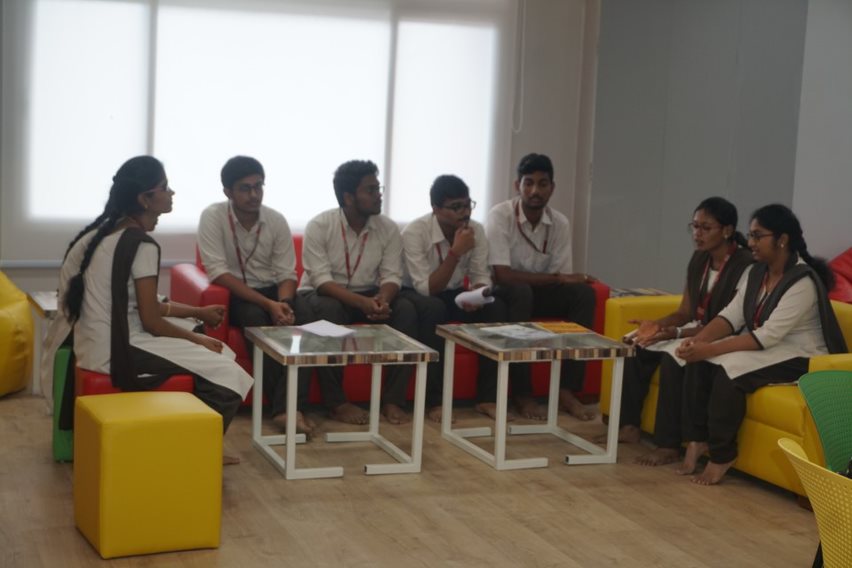 and train-the-trainer sessions for said curriculum.. Otherwise they will be open for use by the college as regular computers labs, although Google reserves the right to use them for special programming, such as
Hackthons

GDG/WTM meetups

Faculty refresh courses on our curriculum

Short prigramming workshops, on other Google products

Design workshops, in partnership with UIF

Event live-stream viewing parties

Launchpad startup events

Speaker Series – Distinguished speakers from Industry/Academia (Hands on curriculum to be developed based on the talk given by the speaker)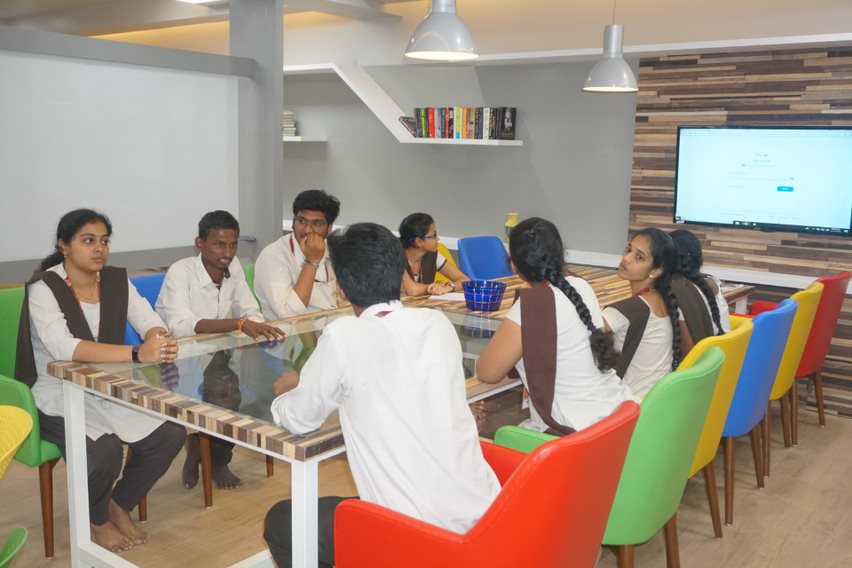 Dassault Systemes'
Details

Category: Facilities
Andhra Pradesh State Skill Development Corporation (APSSDC) in association with M/s. Dassault Systemes, France, has established a 3D Experience lab in the premises of Vasireddy Venkatadri Institute of Technology in the academic year 2018 with a capacity of 36 systems of computers with high configuration (i7 processor, 1TB hard disk and 16GB RAM). The 3D experience lab facilitates licensed software from M/s. Dassault Systemes, France, to train the students and faculty members of Mechanical, Civil and Electrical Engineering Departments, which operates from a server of 64GB RAM, arranged in the lab. The licenses are connected through the internet server only.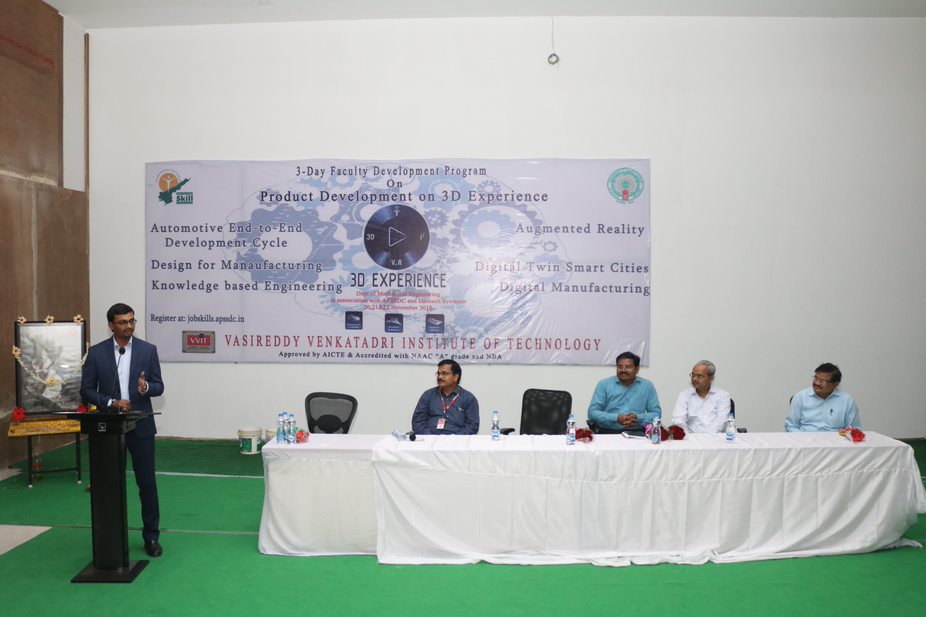 Objectives:
To enhance the employability skill for engineering graduates in research & development technology implementation by imparting skills in engineering design in 3D experience platform throughout the four year academic program.
Students to implement innovative thoughts on 3D experience platform for product development.
Improve students' confidence levels by working in domains such as Aerospace, Automotive and Offshore engineering.
Improved opportunities & placement, sustainability upon recruitment.
Target group:
II, III and IV year Mechanical, Electrical and Civil Engineering faculty members and students, both UG and PG levels.
Levels of training:
Level A
The level A course focuses on II, III and IV year Mechanical, Electrical and Civil Engineering faculty members and students and covers the software applications, introduction of Mechanical design, digital manufacturing equipment system and Finite Element Analysis, with a course duration of 150 hours in which 70 hours are for class room training and the remaining 80 hours are intended for hands-on-practice.
The level A has three modules as follows.
CATIA: It is a platform to design, sketch, surfacing, drafting and assembling of the components. The platform has a wide variety of workbenches. The designed models can be exported to different other software like Solid works, Creo, Unigraphics and .STLfor 3D printing. The CATIA platform requires 60 hours.
DELMIA: The industrial engineering problems can be solved on DELMIA like Process planning, scheduling, routing, time study and flow study. It covers digital manufacturing processes and needs 30 hours of learning.
SIMULIA: Simulation and analysis of the engineering problems are dealt in SIMULIA. Both Mechanical (structural, fluidics, frequency etc.) and thermal (heat transfer, computation fluid dynamics etc.) problems are taught in this domain. It requires 60 hours of learning.
Level B
The level B focuses on the diploma and III year engineering students, those who have completed level A. it covers the basic domain specific training related to three industry verticals such as Automotive, Aerospace and Ship building ( Marine and Off-shore).
Level C
It focuses on Final year engineering students who have completed level A & B. It covers the advanced industry domain specific training. The course will spread across three months and will include an application project.
Level D
The capstone project of the eighth semester can be performed by the students under the guidance of one local and one industry mentor. The duration of the project depends on the team size, capacity and complexity of the other projects.
University Innovation Fellows by Google and Stanford University
Details

Category: Facilities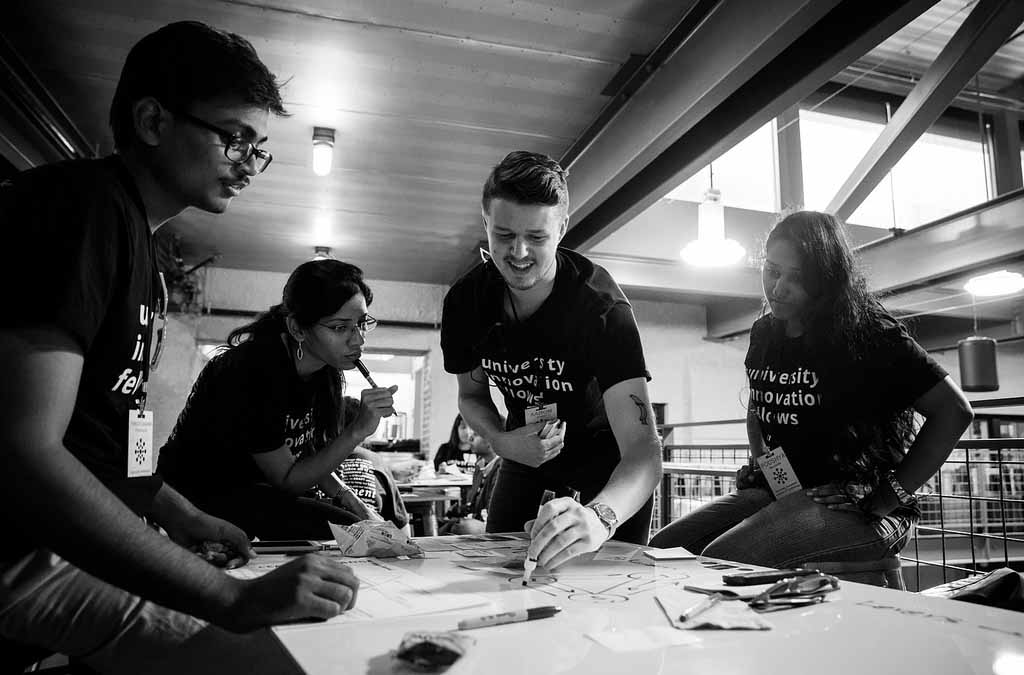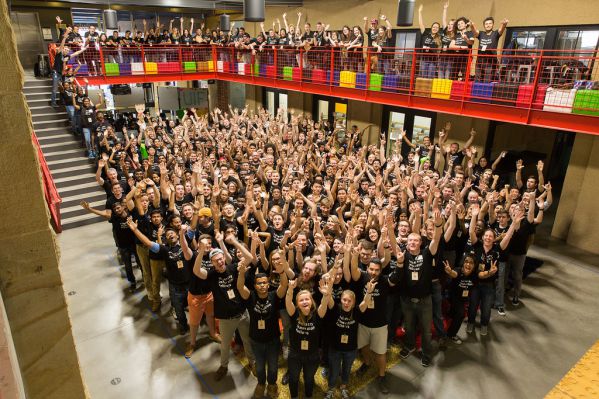 EACH YEAR OUR STUDENTS ATTEND UIF SUMMIT AT STANFORD UNIV, USA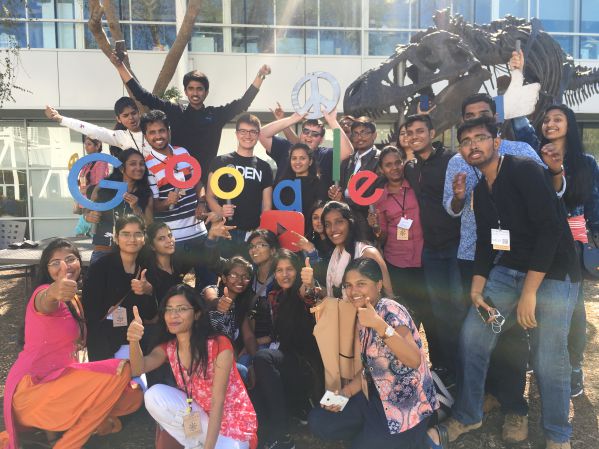 UIF is an initiative by Google in collaboration with Stanford University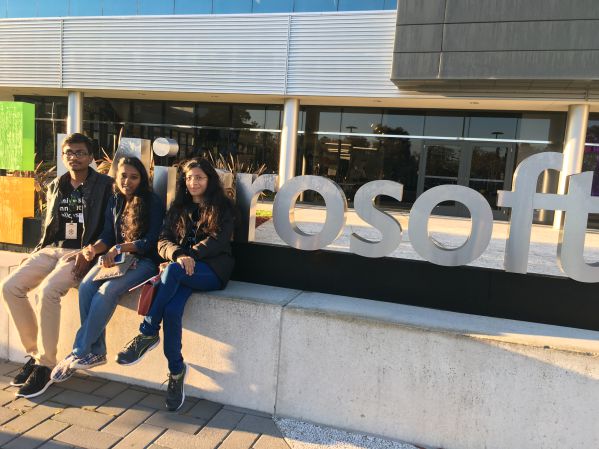 WE PICK OUR BEST STUDENTS TO GIVE A CHANCE TO GO TO STANFORD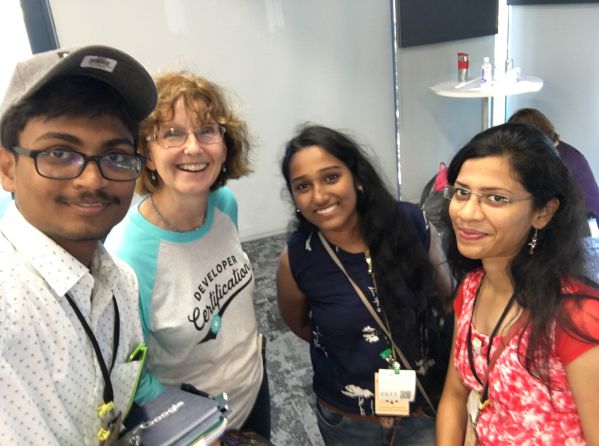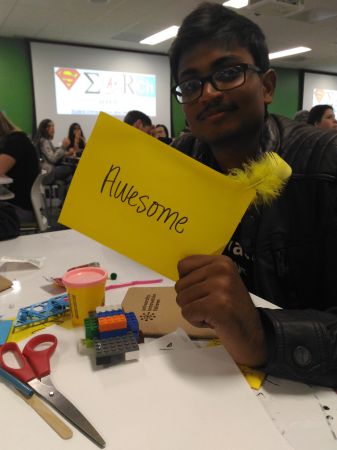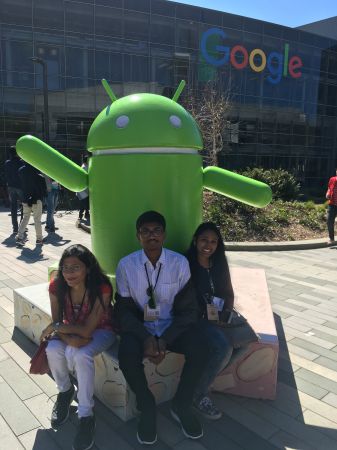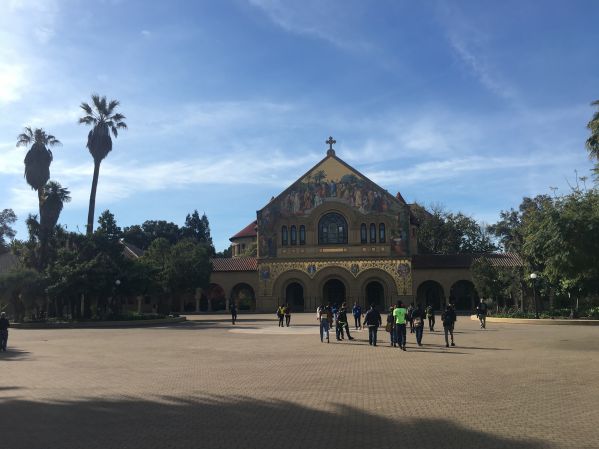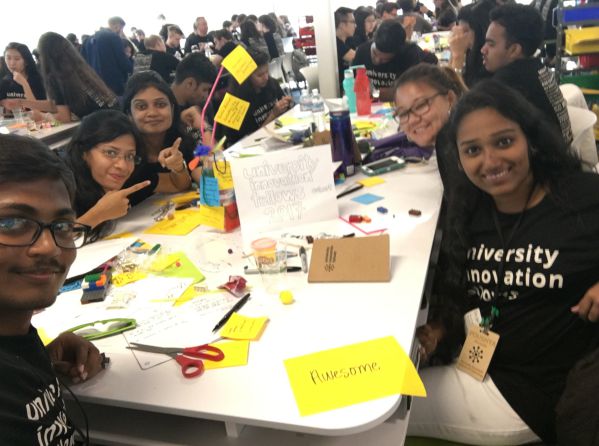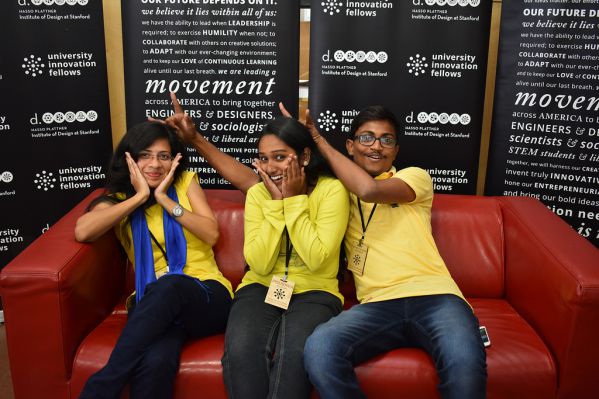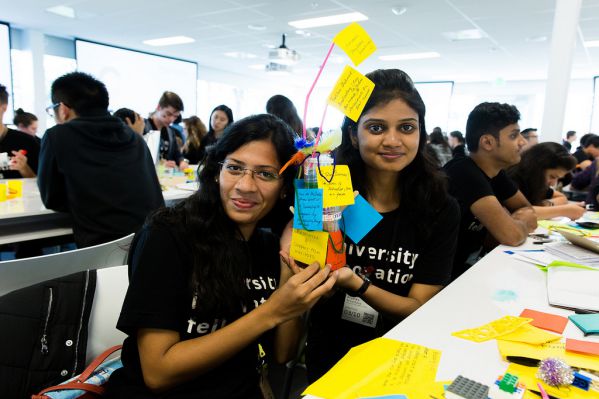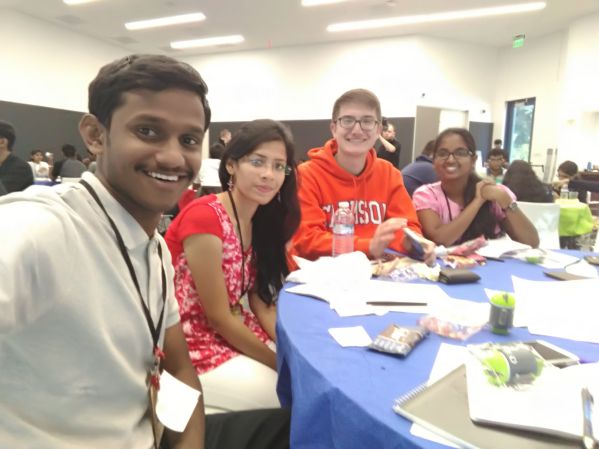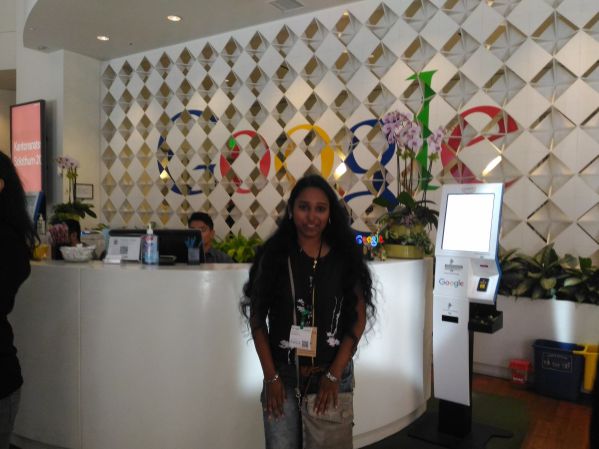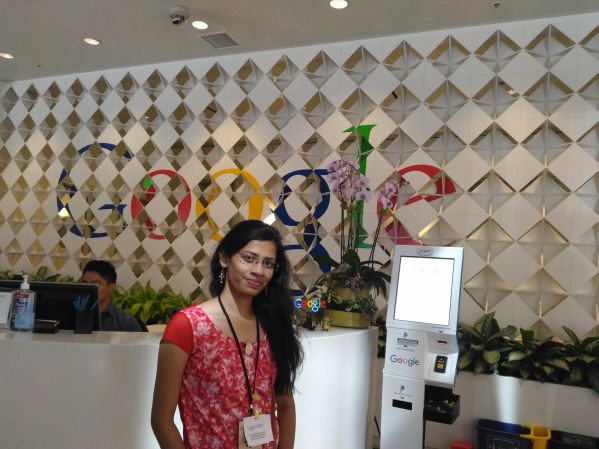 The University Innovation Fellows program empowers students to become agents of change at their schools. The Fellows are a global community of students leading a movement to ensure that all students gain the
necessary attitudes, skills and knowledge required to compete in the economy of the future. These student leaders from schools around the world create new opportunities that help their peers develop an entrepreneurial mindset, build creative confidence, seize opportunities, define problems and address global challenges.
Fellows are creating student innovation spaces, founding entrepreneurship organizations, hosting experiential events, and working with faculty and administrators to develop courses. They serve as advocates for lasting institutional change with academic leaders and represent their schools at national events.
The University Innovation Fellows is a program of Stanford University's Hasso Plattner Institute of Design (d.school). The program was created as part of the National Center for Engineering Pathways to Innovation (Epicenter), a five-year National Science Foundation grant.
UIF at VVIT
First Batch 2016 Fall
| | | | | |
| --- | --- | --- | --- | --- |
| S. No | Regd No | Name | Branch | Year |
| 1 | 14BQ1A0183 | SALIPALLI NAVEEN KUMAR | CIVIL | III |
| 2 | 14BQ1A0499 | MUNIPALLE POUSHYA | ECE | III |
| 3 | 14BQ1A04H2 | VENKATA SASANK PAMULAPATI | ECE | III |
| 4 | 14BQ1A05F1 | NARUKULLAPATI SOWMYA | CSE | III |
Second Batch 2017 Fall
| | | | | |
| --- | --- | --- | --- | --- |
| S. No | Regd No | Name | Branch | Year |
| 1 | 14BQ1A04E2 | SATTU VENKATA SAI CHARAN | ECE | III |
| 3 | 15BQ1A05C4 | MARELLA YASASWINI | CSE | III |
| 4 | 16BQ1A05K1 | SHAIK MOHAMMED RAIYYAN | CSE | II |
| 5 | 15BQ1A0308 | AVULA MANOGNA | MECH | III |
Third Batch 2018 Spring
| | | | | |
| --- | --- | --- | --- | --- |
| S No | College ID | Name | Branch | Year |
| 1 | 15BQ1A03A7 | VELAGA KRISHNA CHAITANYA | ME | III |
| 2 | 15BQ1A03B3 | YAMINI BIRUDURAJU | ME | III |
| 3 | 15BQ1A05I1 | RAVIPATI ISWARYA LAKSHMI | CSE | III |
| 4 | 16BQ5A0512 | PULLAGURA HARSHA TEJA | CSE | III |