Entrepreneur Club Inaugurated
Details

Category: Non Academic Events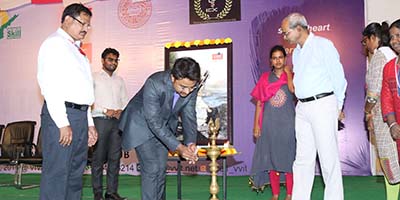 As yet another feather in the cap of Club activities in Vasireddy Venkatadri Institute of Technology, the "Entrepreneurship Club" is inaugurated today to gear up entrepreneurism in students.


Sri Udayan Bhakshi, Programme Coordinator, Andhra Pradesh State Skill Development Center (APSSDC), addressed the aspiring entrepreneurs.
Sri Udayan after formally inaugurating the club inspired the students on the need for entrepreneurial skills in the students. He said that having aspirations and having courage to achieve them are both important to become a good entrepreneur. Sri Udayan Bhakshi commended the efforts of VVIT to spur the entrepreneurship skills in the students by means of this dedicated club.


Principal Dr.Y.Mallikarjuna Reddy, of VVIT, informed it is important to think like an entrepreneur before being an engineer. Dr.Reddy also stated that VVIT is always uncompromising in providing facilities to the students that help in the development of their all-round performance.
After the motivational speeches and video illustrations on how to become a successful entrepreneur, several students interacted with Sri Udayan Bhakshi for sating their thirst in entrepreneurship. Chairman Sri Sagar along with the other members felicitated the distinguished guest as a token of respect.


Students, faculty and Entrepreneurship Cell members of VVIT attended this Entrepreneurship club inaugural.
VVIT Celebrates Teachers Day
Details

Category: Non Academic Events
To honor the iconic teachers in students life, the ardent students of Vasireddy Venkatadri Institute of Technology & VIVA-the-School-by-VVIT, celebrated devotionally the Teachers' day under the aegis of its Student Activity Counsel (SAC), commemorating the legendary teacher, Dr. Sarvepalli Radhakrishnan, who was born on September 5, 1888, the India's second president, a great scholar, philosopher and Bharat Ratna recipient.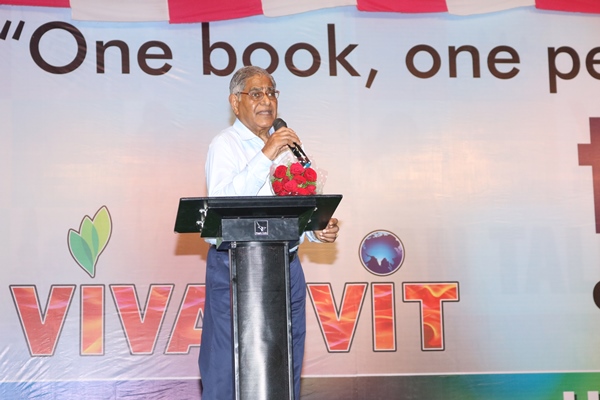 Prof. Srihari Rao Anne, of KL Deemed tobe University, as the Chief Guest and Dr. Divakar Sree, a legendary teacher from Korukonda Sainik School and Founder Principal of Kendriya Vidyalya Panjab as the Guest of Honor.
On this auspicious occasion students & teachers paid their heart-felt floral tributes to the legendary guru Dr Sarvepalli Radhakrishnan. Under the aegis of Music Club students, prayer songs were sung and a row of traditional dance performances by VIVA school children, engaged the audience. The icing on the cake was the melodious songs rendered by VIVA teacher and students spellbound the audience. Several Teachers expressed their heart-felt feelings on the Guru-Shishya relations and the role of an ideal teacher.
After formally inaugurating the event, Dr. Divakar Dasari, said that knowledge has two types devotional and spiritual. No individual can change the world except changing themselves. Without human being there is no world. He took the statement of Malala, "one-Book, One-Pen, One-Child and One-Teacher can change the world. He opined that vision, dream, personality development and sensibility are the four significant things in every one's life. He urged the students and teachers to help others if can if not don't harm.
The Chief Guest Prof. Srihari Rao Anne, started his speech by questioning who is great. He asked the students learn everything from the nature not only from the teachers whose role is limited to schools and colleges. In his perspective student is great because they acquire the knowledge from the teacher within a span of 3 or 4 years even though the teachers have 30 years of experience.
He emphasized the value of a teacher by quoting that good teachers are expensive but bad teachers are costly. "Cultivate the habit of raising your own hand to clear all your doubts in a class room and you should not depend always on a teacher" he added in his enlightening speech.


Sri Vasireddy Vidya Sagar, Chairman of VIVA-VVIT Institutions took prostrations of the Guests and along with all other all teachers felicitated the distinguished guests as a token of respect towards the iconic gurus.
On the same occasion prizes have been distributed in different games and sports conducted for the teachers of VIVA-VVIT, through the hands of the guests.
Sri Sagar, Chairman of VIVA-VVIT, VVIT Principal Dr.Y.Mallikarjuna Reddy, VIVA-Principal Dr.C.T.Joshi, VVIT-Dean Prof. N.Kumara Swamy, VVIT-Director Dr.Naveen Ravela, VIVA Director (Rtd.Col.) Sri Ravishankar,Heads of various Departments, Teachers of VVIT and VIVA-the school by VVIT along with the students participated in this divine event.
The program ended up with vote of thanks and National Anthem.
An awareness program on "prevention of cervical cancer"
Details

Category: Non Academic Events
Vasireddy Venkatadri Institute of Technology under the aegis of its Women Welfare & Protection Cell organized an awareness program on Cervical Cancer and its Prevention for the I B Tech students today 29 August 2018.


Sri Vasireddy Vidya Sagar, Chairman of VIVA-VVIT Institutions, said that Dr. Priya Nandana Alaparthi, an Obstetrician and Gynecologist in Ramesh Hospitals – Guntur, enlightened the students on the symptoms and causes for Cervical Cancer, while informing the prevention measures that must be taken to avoid that deadly disease.
Dr. Priya Nandana, explaining the root causes for Cervical Cancer, urged all the students to motivate the patients in their relatives to think positively and not to give up hope. Dr.Priya also stressed that patients must believe in the information given by the doctors and not to assume things that are worse than they actually are. She emphasized that people do survive cervical cancer if they cope up with diagnosis.


VVIT Principal Dr.Y.Mallikarjuna Reddy, Dr. M.V. Raghuram, Professor and Head of Science & Humanities, Dr. Bh.Rajya Lakshmi, Professor of English and Coordinator of Women Protection and Welfare Cell of VVIT along with I B.Tech students were present in this awareness seminar.